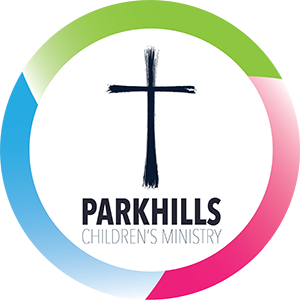 PARKHILLS CHILDREN'S MINISTRY

(Birth through 5th grade)
EVERY WEEK
Sunday, 9:30 AM - Worship care and CLUB for ages birth - kindergarten
Sunday, 10:45 AM - Age-graded Bible Study
Wednesday, 6:30-8:00 PM, during the school year - kidFUEL (music and teaching)
During the summer, Wednesday evening activities are provided for children of parents who are involved in on-campus activities.
SPECIAL EVENTS
SUMMER FUN DAYS
Several times during the summer we provide a day of fun, kid-friendly activities at for children 1 year through 5th grade. Cost is $25/child per day.
VACATION BIBLE SCHOOL

Kids who have completed Kindergarten in the current year through completed 5th grade learn about Jesus in a Biblically-sound and fun new way each summer. This core event evangelizes, disciples, and motivates kids using solid Bible truths, crafts, games, and large-group activities. Limited spots for children who have completed Pre-K.
PRETEEN SUMMER CAMP

Each year 3rd through 5th graders get away for a few days to deepen their walk with God, develop a love for His Word, and form strong Christian friendships.
PRESCHOOL POLICIES
See our Child Protection Policy here.
WANT TO VOLUNTEER?
Our Children's Ministry is always looking for those with a servant's heart who want to love and care for our children with the love of Jesus. There are many opportunities to volunteer including Extended Session/Worship Care, Vacation Bible School and Sunday morning Bible teaching. If you're interested in serving in any area of the Children's Ministry, please contact Christa.
Download Volunteer Application
Need more info? Contact: or 210.494.5219